MyQSX.net can only process new account requests when provided with a valid amateur radio callsign.
You must have an account on MyQSX to log contacts and to manage your home page. Two account levels are available: QSXer (free) and CommCat Live (subscription). A QSXer account gives you access to your online log and a limited-feature web site. CommCat Live enhances CommCat by providing many benefits, including VoIP for 2-way audio, an enhanced web site, the ability to record and present DX audio clips, automatic log synchronization with CommCat, and a public online log viewer.
If you wish to add CommCat Live to CommCat, please visit http://www.commcat.com. Your Live account will be set up within 24 hours. If you wish to add VoIP to your Live account (no additional cost) please let CommCat support know.
Here is how to set up a free QSXer account:
1. Launch CommCat Mobile.
2. Enter your name, call and email address in the log in window.
3. If you already have a MyQSX account, enter the Registration Code, or
4. Tap Submit and watch your email for your Registration Code.
5. Restart CommCat Mobile, enter your Registration Code and tap Submit.
You can also set up an account from CommCat Mobile settings.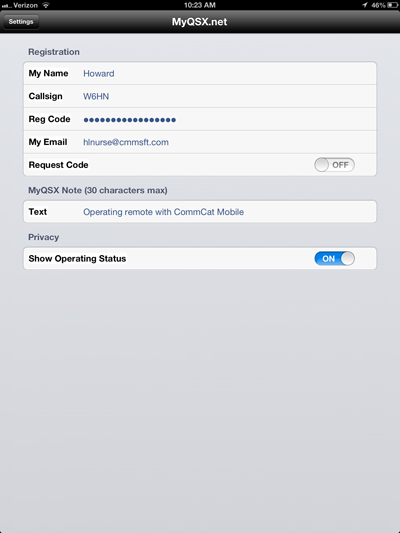 1.Go to More>Settings>MyQSX.net
2.Enter your name, callsign and e-mail address. If you already have a CommCat Live or QSXer account, use the same e-mail address used for that account in CommCat Mobile.
3.If you already have a QSXer or CommCat Live Registration Code, enter the code in Reg Code. Skip the following steps.
4.Turn ON Request Code.
5.Exit Settings and your request will be submitted by CommCat Mobile.
6.After your amateur callsign has been validated, you will receive your MyQSX Registration Code by e-mail. This automated process normally takes less than a minute.
7.Enter the Registration Code in More>Settings>MyQSX.net>Reg Code.
Important: If you need to request your registration code again in the future, you must use the same e-mail address you used to sign up for your account.