Enter or edit the details of a contact in the QSO window, view your logbook, and show the callbook page for a selected contact. Changes you make are synchronized automatically in your CommCat station log.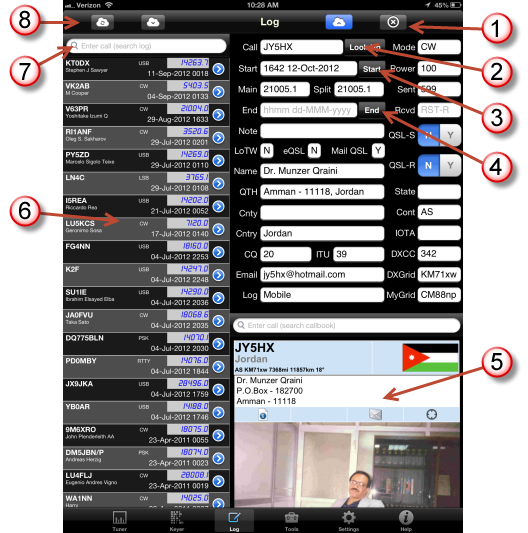 1. Upload/Clear this contact
Tap the blue cloud to upload this contact to your Cloud log on MyQSX.net, or tap the clear button to clear all information about this contact.. CommCat Mobile tells you that the upload was successful. You can also edit and save existing contacts from your log.
2. Look up this call in callbook
Fill the fields from the callbook by tapping Look Up.
3. Set starting time for this contact
The current time is shown in the Start field when you open the Log window for a new contact. Tap Start to update this time to the present time. If you wish to enter the time manually using the iPad keyboard, tap the start time field. The keyboard can be used by tapping any text field in the Log window. If you enter the time and date manually, use the format hhmm dd-MMM-yyyy.
4. Set ending time for this contact
Tap to enter the ending time for this QSO.
5. Callbook page
Callbook page for the selected contact. See details about the callbook window in the Tuner topic.
6. Logbook listing
The 50 most recent contacts from your MyQSX log. Tap a contact to show the contact details in the log window. Tap two times to view the contact in the log window and open the callbook page for that contact. Tap the blue disclosure button to show the callbook view.
7. Logbook search
Search for specific contacts using the search bar. Use the asterisk (*) wild card as a filter. For example, search for K* to find all calls starting with the letter K.
8. Logbook tools
Refresh the logbook listing, or view your entire logbook on the MyQSX site using a browser (see below).
Accessing your MyQSX log from the CommCat Mobile browser.
You can access your online log by tapping the cloud download icon at the top of the logbook list.
The MyQSX log provides a number of features:
•Display your log in normal or extended modes.
•Change the order of contacts by clicking any column header.
•Search for contacts using any field.
•Print your log.
•Upload your station log so you can view and search it from CommCat Mobile.
•Download your log in ADIF, XML, or Excel formats.
•Edit your log online.
•Delete and add contacts.
•View graphical statistics for your log.
Click Help at the bottom of the MyQSX log main window for additional assistance.
Here is a list of the data fields contained in the logbook:
Logname
DX Call
My Call
Time Start
Time End
Main Frequency
Split Frequency
Band
Mode
RST Sent
RST Received
QSL Sent
QSL Received
Note
DX Name
DX QTH
DX Country
DX Continent
DX E-mail
DX Grid Square
DX DXCC Reference Number
DX CQ Zone
DX ITU Zone
My Latitude
My Longitude
My Grid Square
My City
My County
My State
My Country
My Transmitter
My Antenna
My Power