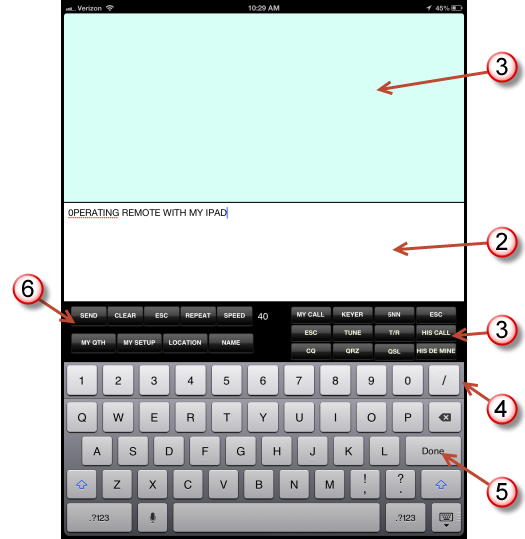 1. Incoming text
Text sent from CommCat. If you are using a WinKey or CommCat's internal keyer, the sent characters show here. If you are using an Elecraft K3 or KX3, the decoded received text from the radio is shown.
2. Outgoing text
3. Macros
CommCat Mobile provides 16 macros that can be programmed for CW messages, rotor control, or rig control. Macros 12-16 show on the macro bar to the left.
4. Numeric bar
5. Done button
Tap the Done button (or keyboard dismiss button) to remove the keyboard and expose the tabbed navigation bar.
6. CW command bar
Tap Send to send the contents of the type ahead buffer, Clear to clear the incoming and outgoing text panels, ESC to immediately halt text being sent, repeat to repeat the contents of the outgoing text panel, and Speed to change the CW speed.