Spots
Push Notify Permit DX Spot Push Notifications to be received from CommCat's DX Spot Manager. You can also control DX Spot Push Notifications by going to iPhone/iPad Settings>Notifications. Scroll down to CommCat. In CommCat Notifications you can control the number of spots to show in the Notification list, the alert style, notification sounds, and badge app icon. DX Spot Push Notifications work all the time, when your iPhone/iPad is in sleep mode, or when you are using another app.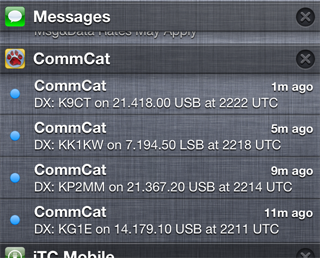 DX Spot Push Notifications can come from two sources.
Push Notifications are created by the DX Spot Manager in CommCat. A Push Notification action can be assigned to any spot rule. When a spot arrives meeting the conditions for that rule, CommCat sends a notification to your iPhone that shows the call, frequency, mode, and time for the spot. The latest spot in a DX Spot Manager spot refresh cycle is sent: if there are additional spots meeting the conditions in the spot list, they are not sent.
DX Rich Push Notifications
Starting with iOS 10, Apple has provided the ability to send what they call "rich" push notifications. CommCat Mobile supports this new technology, as shown in the screenshot below. Rich Push Notification are only available when using CommCat and the DX Spot Manager.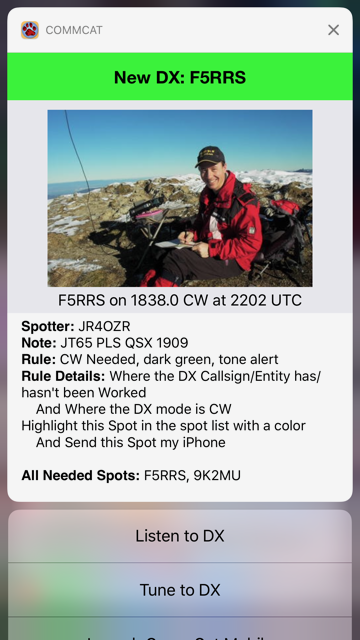 The New DX bar is painted the same color as used in the CommCat DX Spot manager. The image comes from QRZ.com, which requires and XML subscription. A limited number of photos are provided using the free MyQSX.net lookup. If an image is not found, CommCat Mobile displays a flag for that entity.
The spot information, Spotter, and Note come from the spot. The Rule and Rule Details come from the DX Spot Manager Rule that you set up.
All Needed Spots is a list of other spots found during that update cycle that were identified as satisfying the Rule.
Click Listen to DX to tune your radio to the spot frequency and mode, and connect through VoIP so you can listen. This is a quick way to see if you have a chance of working the DX.
Tune to DX tunes your radio without bringing CommCat Mobile to the foreground.
Rich Push Notifications require iOS 10 or later. If you are using an iPhone 6S or later, use 3D touch to show the contents of the notification. If using an iPad or iPhone older than a 6S, swipe left and select View.

If you are using CommCat Mobile when a DX Spot Push Notification arrives, you will be invited to tune to that spot: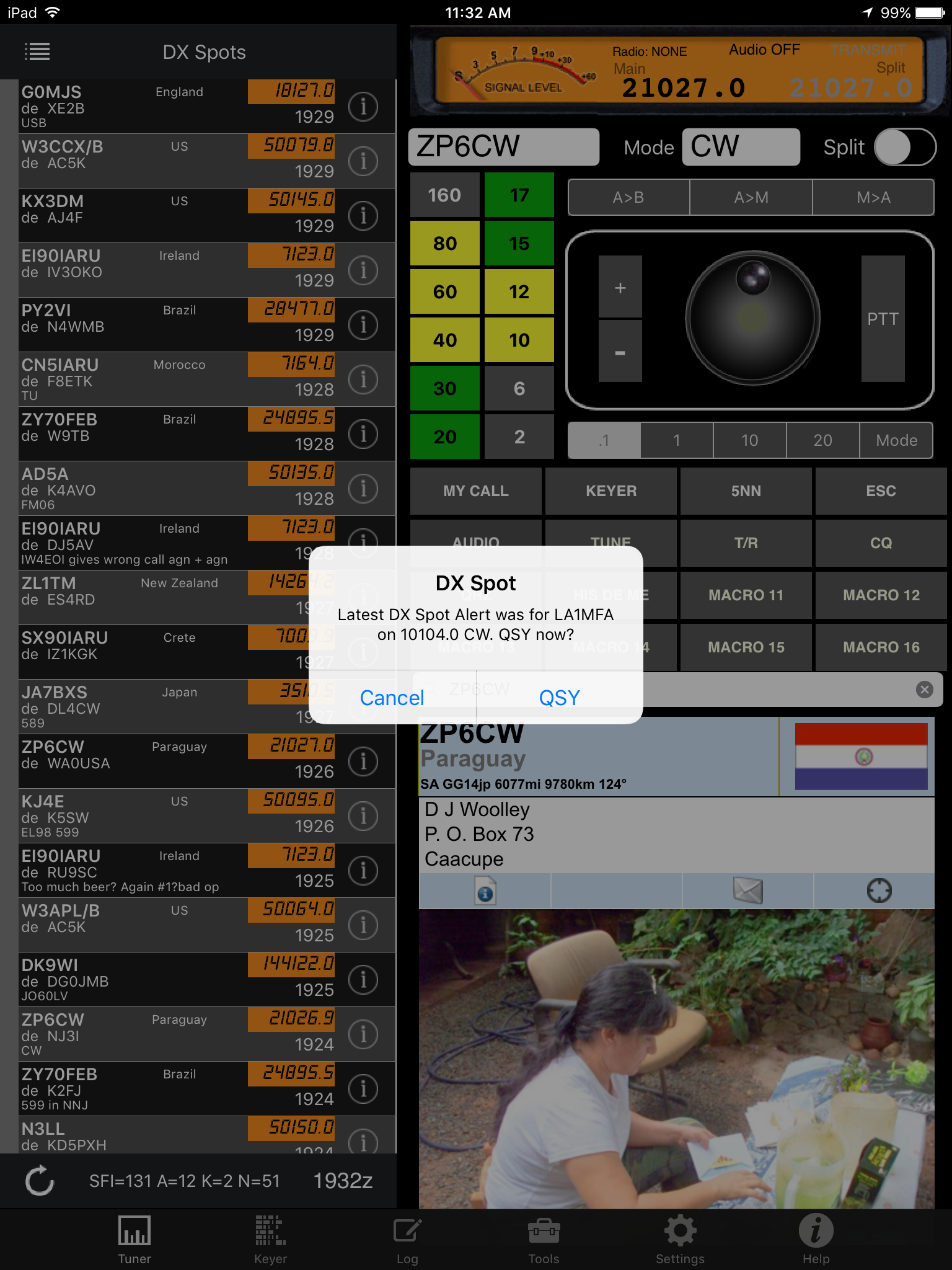 CommCat Mobile's DX Spot Push Notification feature is the most sophisticated DX alert system in existence. No matter where you are or what you are doing, CommCat Mobile will let you know when a critically needed DX station is on the air.
Spot Auto Refresh CommCat Mobile spots are refreshed at timed intervals of 1, 3, 5, or 10 minutes, depending on your preference. You can also turn off auto refresh.
Spots are downloaded from a dedicated DX Cluster node running on the MyQSX.net server.
Spot Filters
Filters help you find spots of interest. Filters are provided for Bands, Modes, Spotter Continent, and DX Callsign. Conditions define the spots to be filtered, and Actions determine what will happen.
The DX Callsign condition can use asterisk (*) wildcards to make the filter more general. For example, KH6* will filter all calls starting with KH6. To filter beacon spots, use */B. To look for spots containing the number 6, use *6*.
Actions
No Filtering This filter is not used.
Hide Spots per Conditions Spots meeting the conditions are hidden.
Show Spots per Conditions Spots meeting the conditions are shown, all others are hidden.
Colored Flag per Conditions A blue (Band), green (Mode), red (Continent), or yellow (DX Call) marker is placed in the gray bar to the left of spots that meet their respective Conditions.
DX Call Red per Conditions The DX call is colored red when the spot meets the conditions.
Beep for Spots per Conditions When a spot meets the Conditions, your device beeps. Only one beep is played per spot refresh cycle.
Alert for Spots per Conditions When a spot meets the Conditions, an alert appears on your device. Only one alert is shown per spot refresh cycle.
DX Call Condition notes
Use an asterisk (*) as a wild card. Enter the call without an asterisk for a literal search. Use W6* to watch for calls starting with W6. Use *B to watch for calls ending with B. Use *A* to watch for calls that contain an A.
Filtering Notes
Spot filtering can use a combination of conditions.  For example, if you live in North America and need K4C on 20 phone, set the band filter to show only spots on 20, the mode filter to show only phone spots, the spotter continent filter to show spots originating from NA,  and the DX Call filter to beep for K4C.  Put your iPhone on your nightstand.  When it beeps, you will know there is a spot for K4C on 20 phone.
CommCat continues to refresh the spot list when your iPhone is asleep and you are using a Beep action. CommCat Mobile does not continue to download spots you you have not set up a beep action.