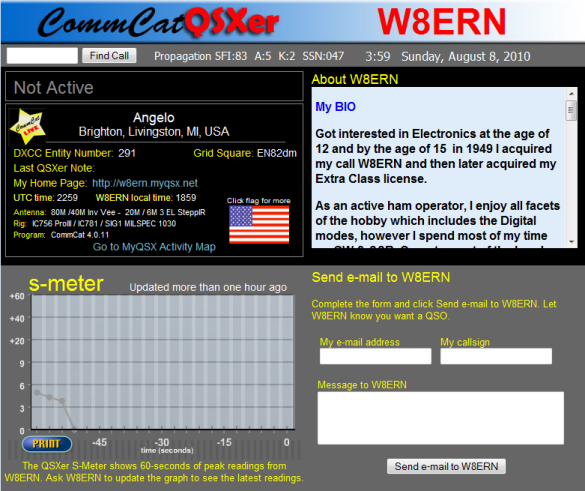 When you sign up for a free MyQSX account, your activity is shown on a QSXer Home Page.
CommCat QSXer is a freeware application that shows your current operating status on a world map and gives you a personal web site.
Your call, current frequency, mode, name, location, and a short note appear on the MyQSX Activity Map web site.
• Show your operating status on the MyQSX Activity Map.
• Works with CommCat, TRX Manager, Ham Radio Deluxe, Logic, and HAM-LOG.
• Easy manual entry of frequency and mode if you are not using a program on the supported list.
• Add a short note or greeting.
• Create your own web site with personal info, bio, and an S-meter graph.
• Visitors can send you e-mail through a form on your site that doesn't expose your e-mail address.
• Hide QSXer in the System Tray.
• Comprehensive online help provided.
•VoIP through a CommCat VoIP subscription.
Download the free QSXer management program from http://qsxer.com. Use your CommCat Mobile Registration Code to register QSXer. With QSXer you can add and edit your biography and make other changes to your site.