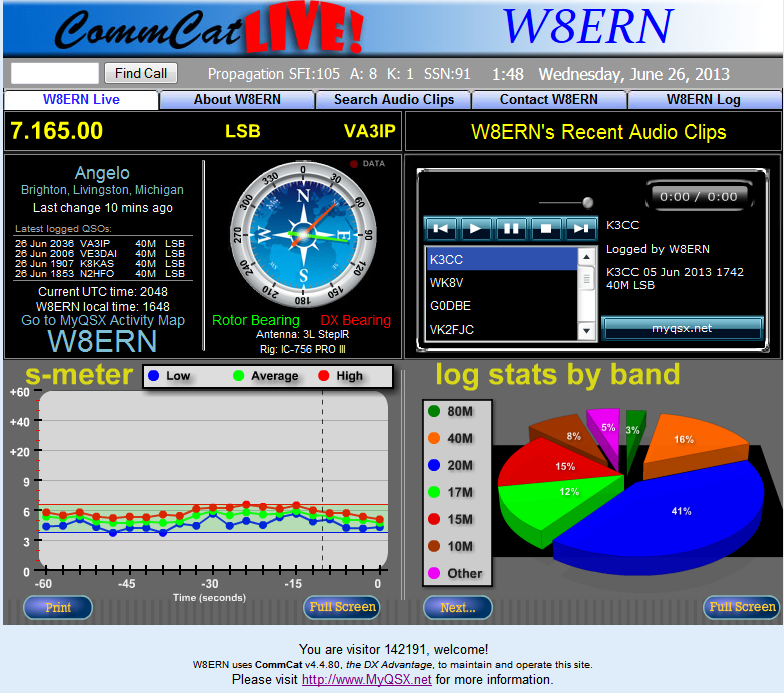 CommCat Live, an add-on for CommCat, provides a personal Internet web site others can visit to watch as you operate. Your operating conditions are constantly updated every few seconds as you work DX, record audio clips and log contacts. CommCat Live is filled with features to give you an exciting presence on the web unlike any other. CommCat Live is a subscription service, unlike QSXer which is free.

•Operate your own personal CommCat Live web site.
•Show your operating status including frequency, beam heading, log, and s-meter as they change.
•Record and upload audio clips of stations you hear or work.
•Stream your audio to the net so others can hear what you hear.
•Bring order to your pile ups and nets by using the interactive CommCat List.
•Create a bio page with text, a photo album, and Google map showing your location.
•Receive e-mail sent through your web-based e-mail page.
•Sync your radio to the frequencies of other CommCat Live users.
•Participate in a chat room for CommCat Live users.
•Archive your log on your web site for safe keeping.
•Track CommCat Live user's operating activities with your cell phone.
•Display your log on your site for visitors to browse and search.
Your web site is located on a server that has been set up especially for this application. The server domain is http://www.myQSX.com and the Live sites are hosted on http://www.myQSX.net. Each user's site has a sub domain that includes their call sign. For example, the site for W6HN is http://w6hn.myQSX.net.