Keyboard Number Accessory CommCat Mobile adds a numeric key strip to the top of the normal keyboard when this option is enabled.
PTT Button CommCat mobile supports the Pryme Bluetooth Speaker Microphone. The microphones have a PTT button. In addition, Pryme offers a standalone PTT button. Select Enable PTT-Z to use a Pryme PTT button.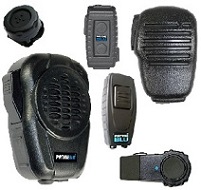 For more information, visit the Pryme website. Be sure to select a device that ends with ZU to ensure it is compatible with Apple devices.
PTT-Z Chirp When enabled, this option provides a short audio chirp when you press the PTT button. The chirp is not sent to your transmitter.