Set up your free MyQSX account. Registration sets up your logbook and MyQSX home page.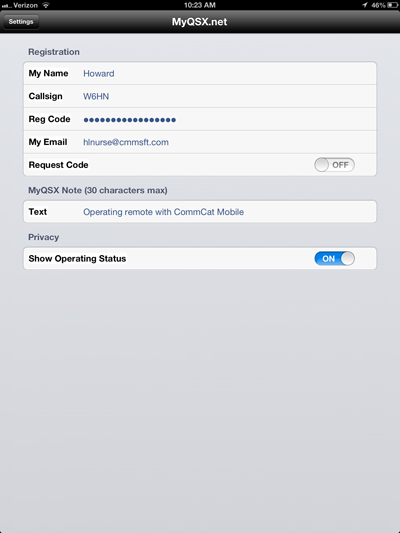 My Name Enter your name.
Callsign Enter your radio amateur callsign
Reg Code Enter the registration code you receive by e-mail after registering. This code gives you access to your logbook and optional secure radio control via CommCat.
My Email Your email address. Your MyQSX registration code will be sent here. If you already have a CommCat Live or QSXer account, this address and your existing account e-mail address must match or you will receive an error message and registration will fail.
Request Code Turn ON to request your registration code. Once the request has been sent, this toggle is set back to OFF.
Text Status note that appears with your pin on the MyQSX.net World Activity Map.
Show Operating Status When you tap the CommCat Mobile tuning knob, CommCat Mobile updates your MyQSX home page with your location, current frequency and mode. Your map pin on the MyQSX World Activity Map is also updated. Turn Show Operating Status OFF to prevent these updates.